International Convention Center (ICC) Jeju
The Jeju International Convention Center is located in the Jungmun Sightseeing Complex at the southern end of The Jeju Special Self-governing Province. It is the most relaxing place in Korea. It takes about 50 minutes to get there by car from the airport, and it is adjacent to the southern seashore.

The Jungmun Sightseeing Complex is the largest and best resort-style sightseeing complex in Korea. It is perfect for summit meetings and international meetings, offering pleasant accommodation, convenient traffic conditions, telecommunications, and security. Leaders of many countries have attended summit meetings at ICC Jeju and regard it as an optimum place for such meetings.

ICC Jeju is clean, pleasant, and pollution-free. Its average yearly temperature is 14-15°C, and it has an oceanic climate that is warm even in winter. However, it does have four distinct seasons and is proud of its beautiful tourist sights.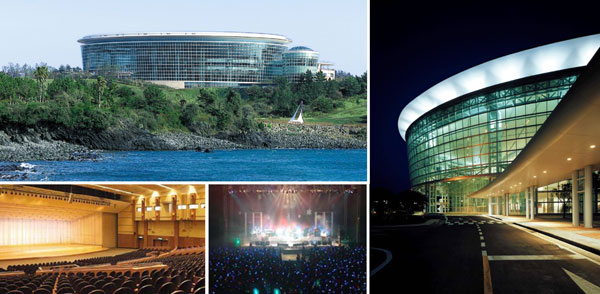 International Convention Center (ICC) Jeju
From Jeju Internation Airport, you will reach ICC Jeju in approximately 40-50 minutes by car through Pyeonghwa-Ro Road.
Limousine buses are also available every 15 minutes at the airport.

> Guide to the airport limousines (Jeju International Airport ↔ Jeju International Convention Center)
| | |
| --- | --- |
| Place | Limousine bus stop at the left side of the front gate (Samyoung Traffic No. 600) |
| First departure | 06:20 at the airport; last departure: after the arrival of the last airplane |
| | |
| --- | --- |
| Service route | Airport → Crown Plaza Hotel → Entrance to the Yeomiji Botanical Garden → Hyatt Hotel → Shilla Hotel → Lotte Hotel → Hankook Condominium → Jeju International Convention Center → New Gyeongnam Hotel → Seogwipo KAL Hotel |
> Taxi guide (Jungmun - Jeju International Airport)
Select the distance (long-distance or short-distance) at the taxi stop.
When you go to the Center, it is all right to take a taxi at the long-distance stop.
Since the taxi fare is fixed, please confirm the distance before taking a taxi
Fare (Korean won) : About 30,000 won; Distance: 40km; Duration: 40-45 minutes
> Guide to car rentals
Advance reservation and selection is recommended for use of rented cars.
Upon your arrival, you can use rented cars through vehicle guide services at the rent-a-car desk in front of the airport exit.
> Details indicated on the map
No. 1 Course
Jeju Airport (Road No. 1134, Pyeonghwa-ro)
Point of departure: Airport - Shin-Jeju - Jeju Racecourse - Pyeonghwa-ro - Jungmun
Sightseeing Complex - ICC JEJU
By car: 50 minutes, by airport limousine: 60 minutes
No. 2 Course
(Road Nos. 1139 and 1100)
Point of departure: Airport - Shin-Jeju - Halla Arboretum - Road of Mystery - Eorimok - Tamra University - ICC JEJU
By car: 45 minutes
No. 3 Course
(Road Nos. 1131 and 516)
Point of departure: Airport - Samseonghyeol - Jeju University - Seongpanak - Donnaeko Amusement Park - Road No. 16 - Jungmun Sightseeing Complex - ICC JEJU
By car: 1 hour and 10 minutes
No. 4 Course
(Road No. 1132)
Point of departure: Seogwipo City - World Cup Stadium - Yakcheonsa Temple - Cheonjeyeon Falls - Jungmun Sightseeing Complex - ICC JEJU
No. 5 Course
(Road No. 1116)
Point of departure: Hallim - Keslrex Golf Club - Blackstone Golf Course - Donggwang Check Point - Jungmun Sightseeing Complex - ICC JEJU